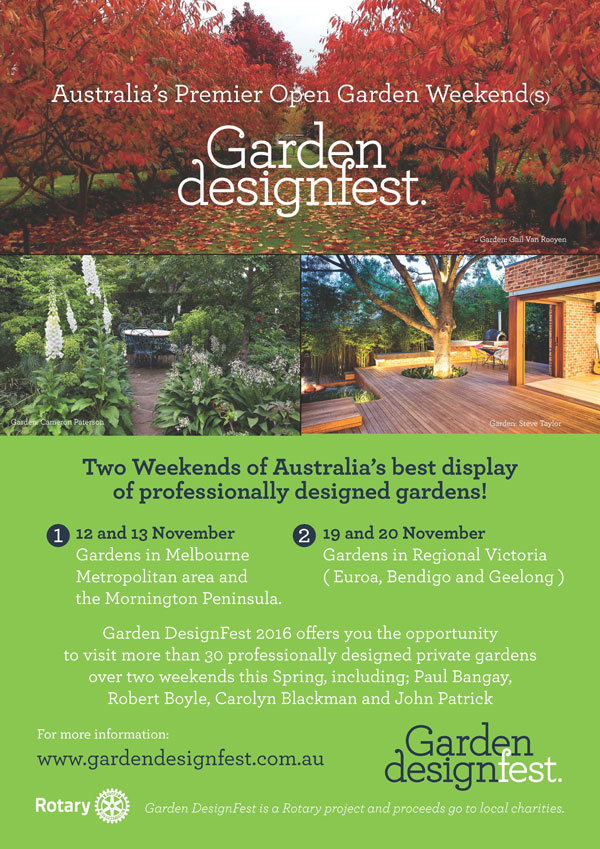 Garden DesignFest is the Rotary Club of Kew's signature fundraising event. Launched in 2004, and run every other year, it has raised over $600,000 for worthy local, national and international charities. Our next event will be in 2018 when we will once again showcase over 30 spectacular gardens featuring the work of some of Victoria's most acclaimed garden designers.

From its humble beginnings in 2004 the event has grow to such an extend that it has expanded beyond the Metropolitan area of Melbourne and now covers major rural areas of Victoria, run over two weekends in November. In the true spirit of Rotary, the organisation and management of Garden DesignFest is now shared between the Rotary Clubs of Kew, Brighton North and Central Melbourne.
We are committed to firstly, raise much needed funds for our selected charities; and secondly, to encourage creative, bold, innovative, versatile, practical and responsible gardening in our Australian gardens.
We are deeply indebted to the generous owners of the gardens and their designers without whom we would not be able to stage this event.
For more information on Garden DesignFest please visit the dedicated website by clicking here.